How to Keep Dry Cleaned Clothes At Home?
How to Keep Dry Cleaned Clothes At Home?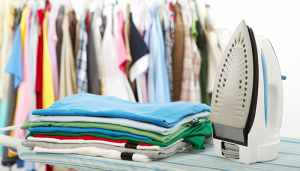 We send our expensive clothes for dry cleaning but when we get them back, we forget we need to be very careful whle storing them. The clothes are bound to get spoiled even after taking all the precautions of getting it dry cleaned. When we book laundry online on sites like The Laundry basket, they send their representatives to pick up the laundry from your doorstep at a time that is convenient for you. Then process them and delivery them back to you at your doorstep. Through their new app, you can also track your laundry status online and make online payments. Easy, isn't it?
We usually take the clothes received from laundry and dump them in the cupboard without even seeing if the cupboard is perfect for the cloth. It is very important to know how to store clothes after they are dry cleaned –
Check for Insects:
Almost everyone has wooden wardrobe but there are still few homes that have steel almirahs. Steel almirahs are not a problem as spreading a newspaper on the base and then placing your cloths on them will solve the problem. But if you have a wooden wardrobe, as wood is an excellent breeding ground for insects, it is very important that you check for insects before placing your clothes. Make sure that you clean your wardrobe every week.
Check for Seepage:
In India, many houses have wall inbuilt wardrobes that have wall racks and not wooden ones. And there is another problem that we face in India during the rainy season – Seepage. So, if you have a wall inbuilt wardrobe make sure that you check for seepage at frequent intervals so that you do not leave you cloths in a damp area as that can be a perfect breeding ground for moulds and insects.
Use Naphthalene Balls:
Before storing your cloths make sure you throw in some naphthalene balls in the cupboard. It not only keeps your cloths smelling fresh, it also keeps all kinds of insects away from them. This is very important while storing your woolen cloths as they are usually stored for long periods and come out during the winters. They need the maximum care. In case, you are allergic to naphthalene you can also use dried neem leaves.
Use Hangers:
There are always formals in your online laundry and it is very important that you always hang them in a hanger. Do not pile them up in your cupboard as you certainly do not want to turn up in office wearing clothes with creases on them.
For all your Dry Cleaning needs, switch over to The Laundry Basket! Schedule Your Pick-Up Now!
Or