What Is Dry Cleaning Really?
What Is Dry Cleaning Really?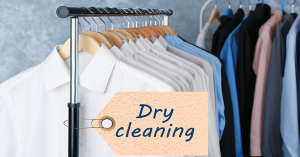 Dry cleaning basically refers to cleaning clothes and fabrics that too by using a chemical solvent instead of water. The cleaning might be done with liquid but the solvent that is used contains little or no water at all and the solvent does not penetrate the fibers like water does while washing in a washing machine and also preserves the desirable qualities of many fabrics. The dry cleaning process is typically used on clothes and fabrics that would not be able to withstand the rigors of a home washer and dryer and also eliminates the need for the more time-consuming process of hand washing.
Like many inventions, even dry cleaning was an invention that came about by accident. In the year 1855, Jean Baptiste Jolly, who was a French dye-works owner, one day noticed that his table cloth became much cleaner after his maid accidentally overturned a kerosene lamp on it. As he was operating through his dye-works company, he started to offer a new service and called the "dry cleaning" service.
Earlier the cleaners used to use the variety of solvents like gasoline and kerosene to clean clothes and fabrics. After World War II ended volatile synthetic solvents like carbon tetrachloride and trichloroethylene gave way to a new product known as perchloroethylene or perc, and became an overwhelming solvent choice for the industry. This solvent was not only safer and faster, but also did a much better job of cleaning. The benefits also included not requiring massive equipment, required less floor space, and could also be installed at retail locations.
When we drop our clothes off at the dry cleaners, the experts their follow a pattern that would behold true to just about any dry-cleaning operations that are running today. Well, these are the following steps that your clothes go through at the dry cleaners:
Tagging And Inspection:
This is basically a method, where small paper tags or the little labels written on the shirt collar, would be used to identify your clothes so they don't get mixed up with someone else's. Before taking them they examine your clothes for missing buttons, tears, etc. that the dry cleaning store could get blamed for otherwise.
Pre-Treatment:
The second step is where the cleaner looks for stains on your clothes and treats them with methods to make removal easier and more complete.
Dry Cleaning
The third step is where the clothes are put into a machine and cleaned by using a solvent.
Post-Spotting:
This is a step where any lingering stains are spotted and removed.
Finishing:
The last step mostly includes pressing, folding, packaging and other finishing touches that re required before delivering it to the client.
Now you know what dry cleaning actually means.
#OutsourceYourLaundry Now!
Schedule your pick-up now
https://www.thelaundrybasket.in/ Or
Download the New App!
https://www.thelaundrybasket.in/#getapp