How To Keep Black Clothing From Fading
How To Keep Black Clothing From Fading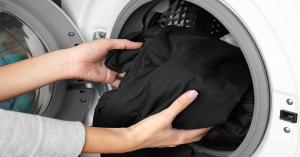 There is no such person who may not like black in their wardrobe. Everyone has at least one black dress in their wardrobe and they prefer to keep it black and not let them get faded and turn to grey. With each wash your black colored clothing starts to fade. It is true that wear and tear of any piece of clothing are very natural but when you see that your 2-month-old black dress has turned grey, that definitely hurts.
Here are some tips:
Do Not Over Wash Them:
Always remember that you don't really need to wash your jeans every day, well this is actually one of the big reasons why black or dark colored clothes start to fade away so quickly. You can easily put your jeans in the freezer to kill germs and then spot clean them with a wet cloth instead of putting them through the complete cycle. Black clothing that you wear over layers, for instance, a black cardigan worn over a t-shirt or a black skirt worn over tights, does not need to be washed after every wear.
Separate Delicate Clothes:
If you wash all those delicate black fabrics like the camisoles, silk, cashmere, etc., with normal or heavy loads would end up causing more wear and tear to those clothes which would lead to its fading.
Turn Them Inside Out:
To decrease the exposure to the front facing side of the clothing you can turn them inside out while you are washing it. This would help you in preserving the color on the garment or of the side that matters the most.
Use Short Wash Cycles:
There are many washing machines which have different time settings for your laundry loads such as 8 minutes, 10 minutes, 12 minutes. So, use the wash cycle that is the shortest as per your washing machine this would simply minimize the exposure of your black clothes to the harmful wash cycle which would cause them to fade more quickly.
Wash In Cold Water:
While washing black cloths or dark colored cloths you should always remember that you must wash them with cold water that is the water temperature should be around 60-80 degrees Fahrenheit. But if you are not sure you can always opt for services like laundry basket online service.
These simple tips will help you keep all your blacks black.
If this is too much of a hassle, you can always opt for professional online laundry and dry cleaning services such as The Laundry Basket who – at the tap of a button – will pick-up your garments from your door-step and deliver them back to you neat and fresh.
Schedule your pick-up now and save your time and clothes.
Schedule Your Pick-Up Now!
Or