Things You Must Know While Washing Silk Clothes
Things You Must Know While Washing Silk Clothes
Silk cloths look extremely beautiful and wearing them to a party, well all the eyes are on you!
Most of your friends come up and ask you about the dress or the saree, but what if in a party like this you drop curry on that silk saree of yours. I don't think you would wait to go to any laundry to drop off your saree for dry cleaning. Keeping a silk cloth with oil and spice on it means you are actually spoiling that perfect saree that everyone praised so much.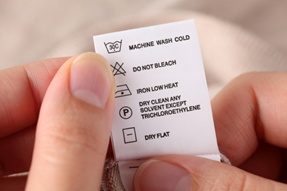 Isn't it better that you come back home and wash it off immediately by yourself? I know all silk lovers would do this. But silk requires special care and washing them like any other garment may spoil it. Silk is a luxurious cloth and very delicate too. It requires special care and here how you can do so:
Follow the instructions – There are various types of silk that are available so it is very important for you to check the care label before you start washing. Any carelessness on your part can spoil your silk clothing.
Silk should not be spot treated – Well, with silk you can never spot treat. If you have dropped something on your silk saree and you just wash off the stained portion like you would do with any other clothing then that particular portion would appear faded immediately. So, spot treating is a big no for silk clothing. While washing off even stain you should always wash the full saree.
Never use a dryer for silk cloths – Silk should never be dried in a dryer as it can spoil the fabric and the texture rather you can wrap a towel around the silk clothing to soak the excess water.
Hand wash in cold water – Silk cloths are delicate in nature and should always be hand washed, that too in cold water as hot water or even lukewarm water can spoil them. Machine wash is definitely not ideal as they put a lot of pressure on the fabric.
Use low iron settings – After washing any clothing ironing is natural, but while ironing silk clothing always remember that they are delicate and cannot sustain high temperatures. Always make sure that you use low iron settings while ironing silk clothing.
Still not comfortable washing your silk garments or you're just too lazy to do it?
Why not opt for Online Dry Cleaning in Bangalore? They are professional and you can rest assured that your garments are in good hands.
One such Online Laundry Service in Bangalore who you can trust in is The Laundry Basket. They have 10 locations in Bangalore and you also have the convenience of scheduling your pick-up through their new Android/ iOS App
#OutsourceYourLaundry Now!
Schedule your pick-up now
www.thelaundrybasket.in Or
Download the New App!
https://www.thelaundrybasket.in/#/#getapp