5 Easy Tips To Keep Your Clothes Last Longer
5 Easy Tips To Keep Your Clothes Last Longer
It is always smart to save on your clothes shopping as clothes nowadays are not cheap. The best way, which we all use, is to buy clothes off the sales rack. It is also important to take good care of your garments if you want them to last longer. There are many small tips that you can use to keep your clothes as good as new.
Here are some of those laundry tips that you can use, it might simply help you to prevent your clothes to go from closet to the rag bag.
Remove Stains As Quick As Possible – Whenever some food falls on our clothes we have a habit of neglecting it. It is a wrong way to deal with it as any oily food d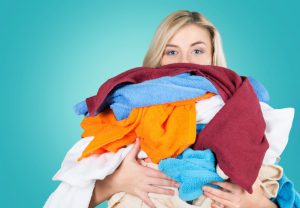 oes leave a stain and that stain causes the cloth to loose its texture and quality if left for long. So, make sure you get rid of it as soon as possible. Many people do carry stain removal pen. But if it happens at home then you can quickly wash off the stain.
Read The Fabric Care Label Carefully – Unless you are an expert at laundry work you should always read the care label very carefully as it gives the exact directions on how the cloth should be washed. Washing any cloth in the correct manner is very important if you want your clothes to last longer.
Sort Your Laundry –When you turn over your laundry to wash make sure you sort them out by colour and also by texture you would certainly not like your silk dress to dance around with your all sequined dress or even your jeans. I am sure you would not want that. So why not separate them so that you can wash them separately and even if a colour bleeds it would not spoil your whites.
Button And Zip Up Your Jeans – You must wonder why this tip is important. Well, you certainly will not want that those open zippers and buttons to snag other fabrics or snap themselves off. And you certainly do not want your clothes getting hooked to each other. It is also a fact that your clothing lasts longer if you button up and zip up and turn it inside out as it prevents wear and tear on the outer finish.
Use Less Detergent – Almost every person is guilty of using extra laundry detergent or fabric softener while putting your clothes in the washer. You must remember that more detergent does not always mean more cleaning. In fact, the truth is that the extra detergent we use generally settles back on the clothing and leaves your clothes dull and stiff.
Dry Clean What Needs To Be Dry Cleaned – More oftern than not, we don't understand what clothes need to be dry cleaned. As mentioned above, it is extremely important that you read the fabric label carefully and follow the instructions. A garment which needs to be dry cleaned, if washed, will completely ruin it. So don't hestitate! The money you spend on dry cleaning is more of an investment on your expensive garments to keep them lasting longer.
These simple clothing tips will easily help you keep your clothes as good as new for a longer time. But sometimes, even after knowing these tips we do not have the time to actually put them to use. So, why not opt for online laundry service and solve all your laundry woes.
One such Online Laundry Service in Bangalore who you can trust in is The Laundry Basket. They have 9 locations in Bangalore and you also have the convenience of Scheduling your pick-up through their new Android/ iOS App
#OutsourceYourLaundry Now
Schedule your pick-up now
www.thelaundrybasket.in Or
Download the New App!
https://www.thelaundrybasket.in/#/#getapp